Individually Pressure Tested

The World's First Semi-Rigid Modular Surf Housing

Universal, Works With Different Brands & Cameras

Works With Different Lenses

Floats With Your Device

PowerBank Compatible - For Extended Shooting

Modular Design

Full Range Of Accessories & Spares Available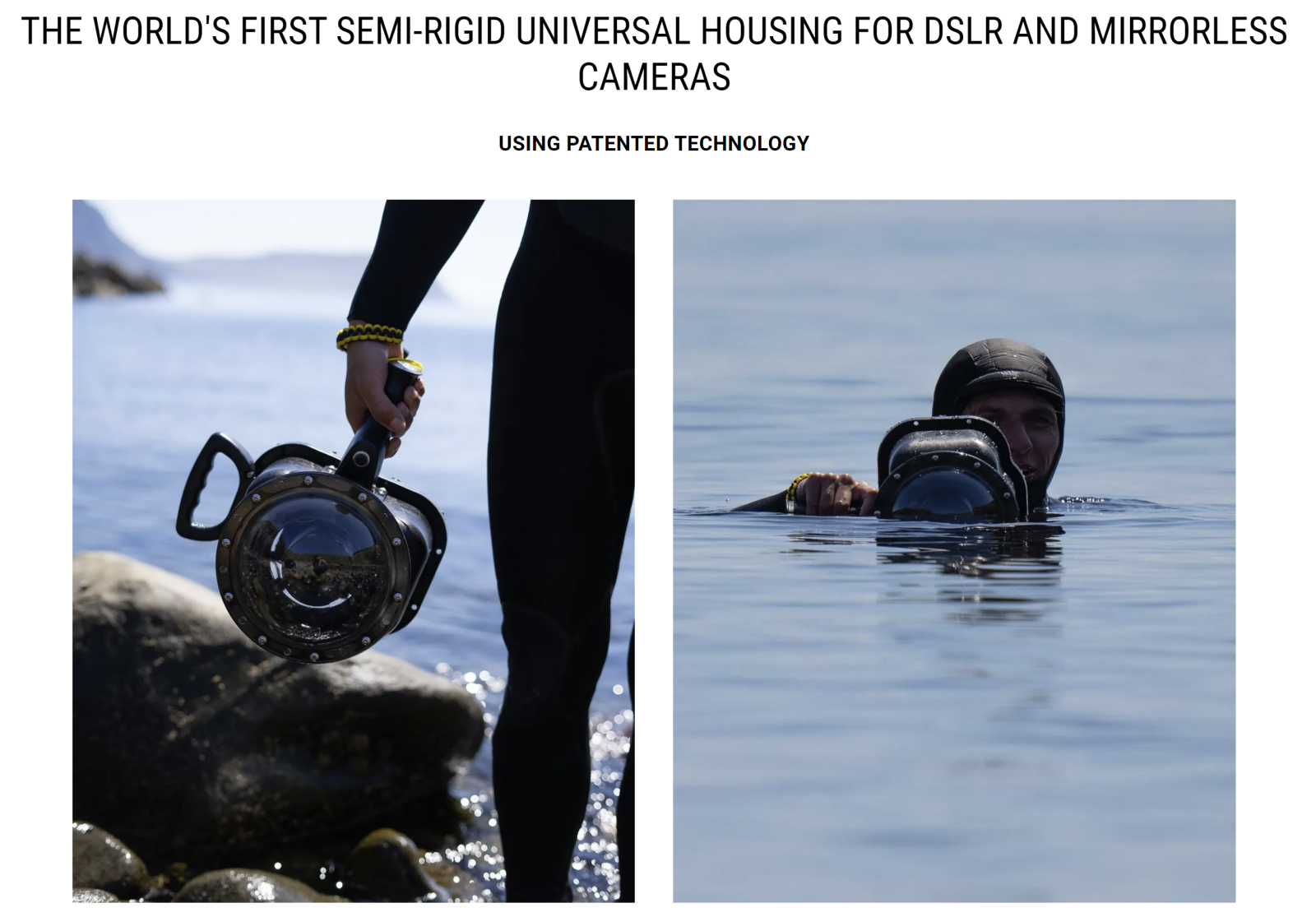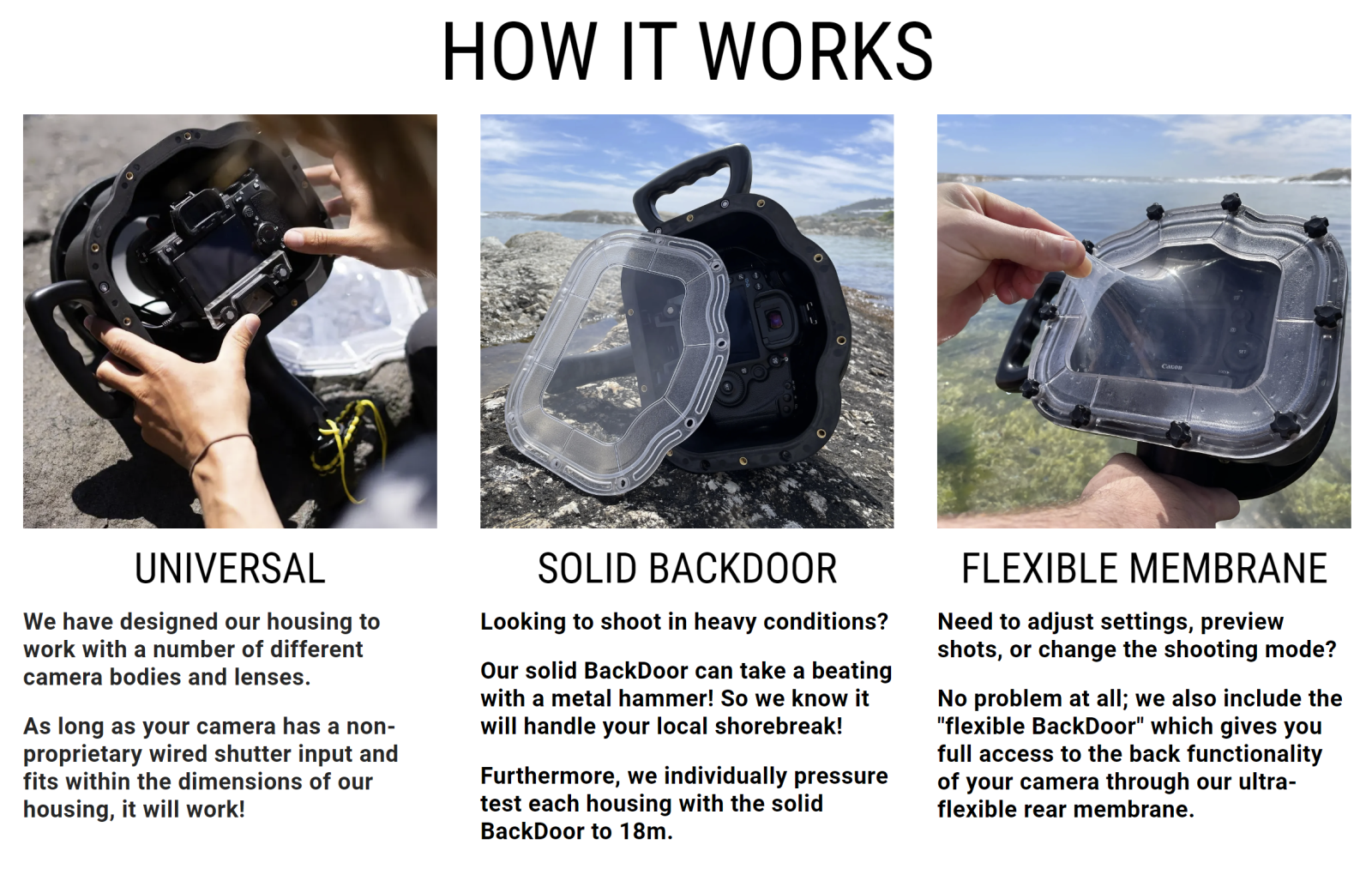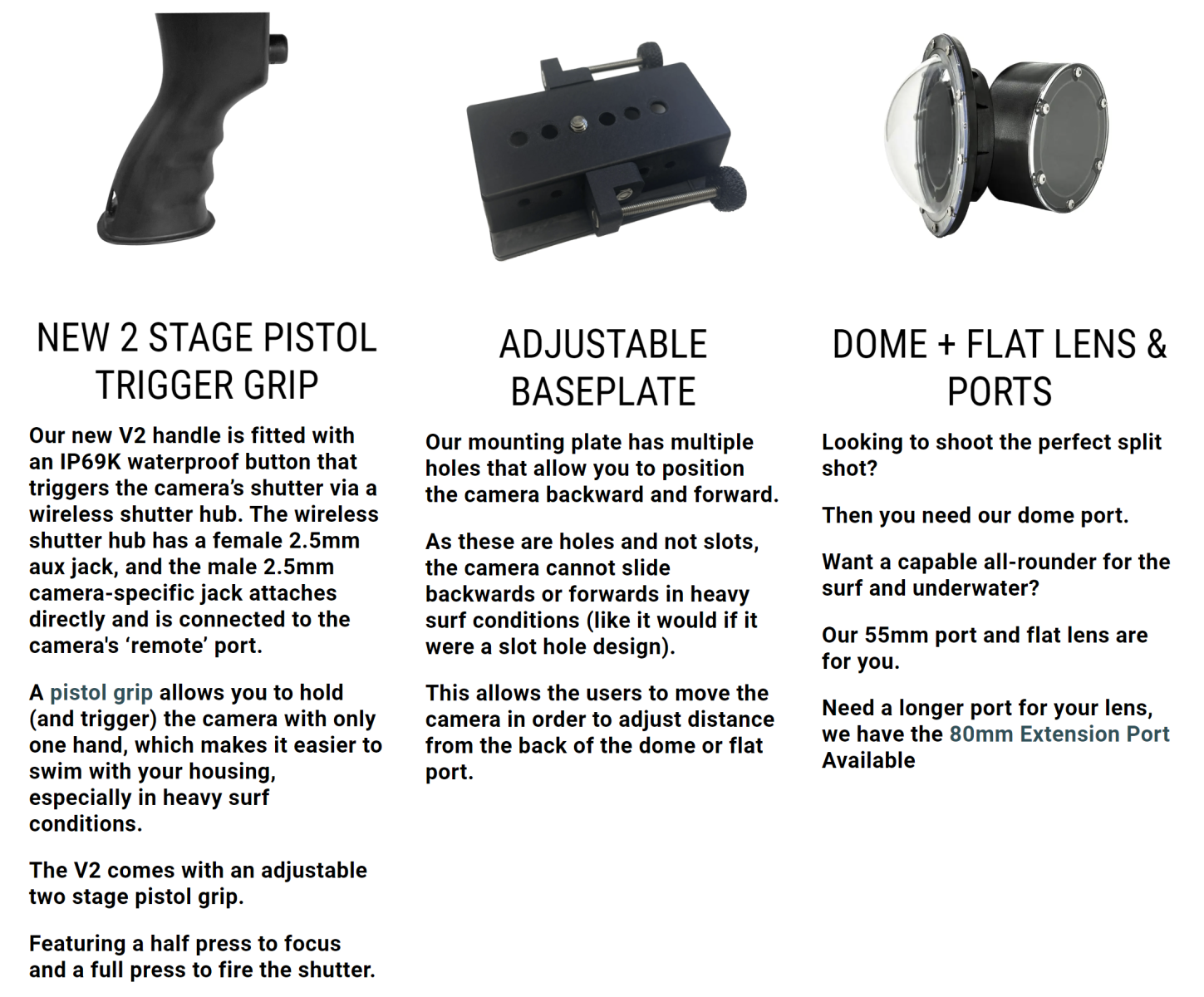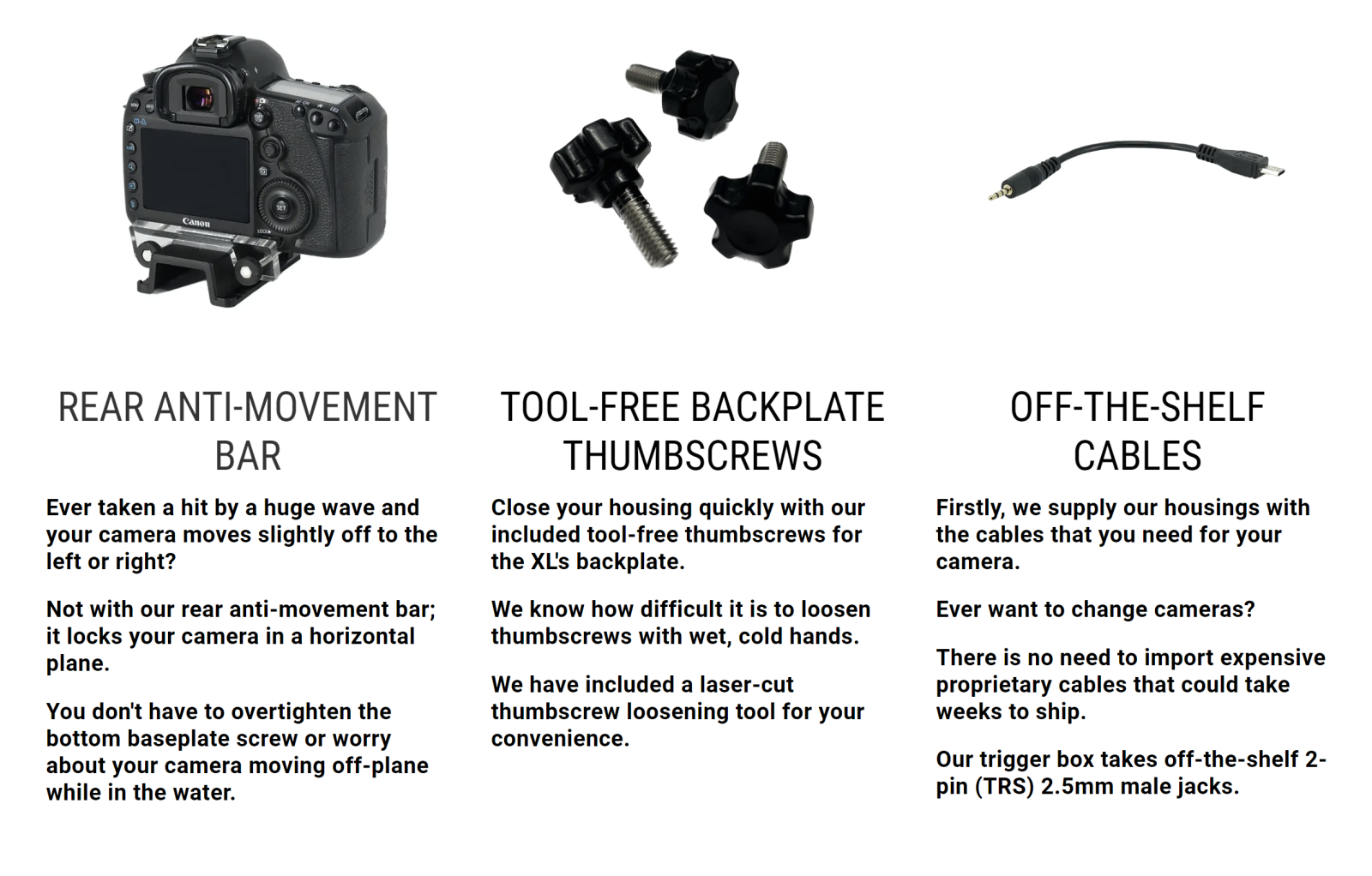 The GDome XL Surf Edition V2 is focused on water-based content creators that need to shoot with a pistol or trigger grip (one-arm operation) in extreme conditions.
The GDome XL Surf Bundle is the perfect housing for any surf or water-based photographer looking for a universal water housing for their DSLR or mirrorless camera without breaking the bank and yet getting a comprehensive surf-focused water housing kit that can be used for a number of different camera brands and lenses. As our housing is universal, you will not have to buy new water housings or ports as you upgrade your cameras and lenses (as long as they will fit in our housing).
Advanced underwater photographers and videographers that already have professional kits could use the GDome XL for unique, specialized camera bodies or lenses that are not compatible with their current housings or port configurations.
Rental houses or individuals will be able to rent out the GDome XL, and given the current rental rate charged for underwater housings, this could be extremely profitable.
The world's first universal semi-rigid modular underwater housing
Yes, this is a loaded description, so we will need to break it down for you so that you can really see the value of this universal underwater housing.
When we say that the GDome XL is a universal water housing, we really do mean it! The GDome XL will work with almost any mirrorless or DSLR camera right out of the box (check the internal sizing chart to confirm this, as cameras like the Canon 1D could be too tall for our housing).
You might think this is not unique, as there are a number of housings that can do this. These housings are either completely "soft" (made from a rubberized or PVC material), meaning that you cannot add dome ports, lens extensions, or even lights and GoPros to the housing. where the 'hard' housings have extremely limited functionality (no ability to change settings or functions).
Our housing is considered semi-rigidmolded, as the housing and ports are injection molded, and only the rear screen is made from a flexible membrane. We also include a solid backdoor that is individually pressure tested to 18 m before leaving our office. Having a flexible rear screen allows us to give the user full access to the camera's rear functionality.
When it comes to modularity, the NEW GDome XL Surf V2 is fully modular, as you can interchange ports, the side handles, and even remove the bottom pistol grip and use the optional side trigger system.
Included in the box is a 55mm port adapter with a flat lens element as well as a 40mm dome port extension adapter and dome lens element. Our 80mm extension port (Optional Extra) is fully compatible with the dome port adapter if you need a further extension to your GDome XL. This port is stackable, so you could add two or even three of them depending on the length of your camera lens.
CONSTRUCTION
Our housings and ports are injection-molded with glass-filled nylon, which is one of the strongest engineering materials on the planet.
Our backplates are injection-molded from high-impact polycarbonate, and all of our bolts are 316 stainless steel to protect against salt water corrosion.
SAFETY
Our seals are custom-molded specifically for us from silicone. Silicone has close to zero memory, excellent resistance to weathering and UV exposure, and lasts approximately four times longer than rubber.
We do not use glued seals in the GDome XL.

Clips are convienient and efficient, however, the bolts we use are failproof in rough conditions and cannot be accientally opened when in the water.
We have never had an XL leak due to a product fault as all of the parts are precision molded (so there is no room for errors), we do not glue our seals, and we pressure test each housing with the solid backdoor to 18 m before leaving the office.
The only real chance of a leak is if you do not tighten up the screws on the ports or backplate when using the housing.
Another key feature of our housing is that the camera sits on a heightened baseplate, so even if water did get in the housing, the camera is lifted away from contact with the water, allowing you to get out the water and get your camera out without damage.
WEIGHT
With pistol grip, base plate and dome port and accessories = approx. 1.5 kg
| | |
| --- | --- |
| SKU | GDOMEUNISURFV2 |
| Brand | GDOME |
| Shipping Weight | 3.5000kg |
| Shipping Width | 0.200m |
| Shipping Height | 0.200m |
| Shipping Length | 0.200m |
| Shipping Cubic | 0.008000000m3 |
Be The First To Review This Product!
Help other Camzilla users shop smarter by writing reviews for products you have purchased.